Appearance: The coat is short, straight, coarse, and dense.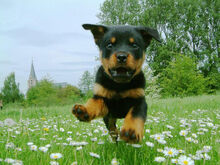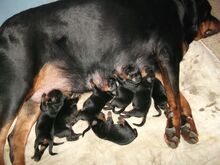 Coat colour is black with brown mahogany markings above each eye and on the cheeks, muzzle, chest, and feet.
Grooming needs: Rottweilers should be brushed once a week.
Exercise needs: They needs considerable exercise-long walks and romps daily.
Origins: This ancient breed was used by Roman cattle drovers to herd cattle to market and then protect the master's profits on the way home.
Hight: 22-27in
Wight: 90-130lbs
Life span: 9-12 years
Country of origin: Germany
While still used in herding, Rottweilers are now used as search and rescue dogs,

as guide dogs for the blind, as guard dogs or police dogs, and in other roles.