The Labrador Husky is a spitz type of dog that was bred for work as a very strong, fast sled dog; it is a purebred originating from Canada. Although the breed's name may be baffling, it is not a mix between a Labrador Retriever and a Husky. The breed is very little known, and there are no breed clubs that currently recognize it.
Other Names:
Edit
Golden Husky
Labusky
Canadian Labrador Husky
Huret
Labrahusky
American Husky
Canada De Huskygher
80-105 pounds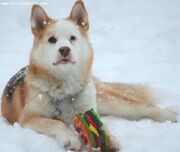 Ad blocker interference detected!
Wikia is a free-to-use site that makes money from advertising. We have a modified experience for viewers using ad blockers

Wikia is not accessible if you've made further modifications. Remove the custom ad blocker rule(s) and the page will load as expected.