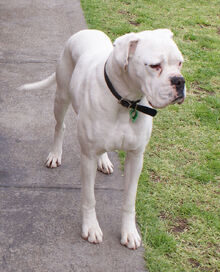 Appearance: The Boxer is a short-haired breed, with a shiny, smooth coat that lies tight to the body.
Grooming needs: Boxers only need occasional brushing and bathing.
Exercise needs: Boxers needs daily exercise, including several long walks and playtime. Boxers are really good jumpers, so a high fences is a good idea.
Origins:
Height: 21-25in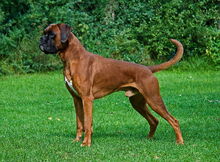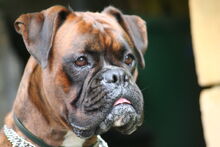 Weight: 55-75lbs
Life span: 8-10 years
White Boxers: Boxers with white markings covering more than one-third of their coat – conventionally called "white" Boxers – are neither albino nor rare; approximately 20–25% of all Boxers born are white. Genetically, these dogs are either fawn or brindle, with excessive white markings overlying the base coat color. Like fair-skinned humans, white Boxers have a higher risk of sunburn and associated skin cancers than colored Boxers. The extreme piebald gene, which is responsible for white markings in Boxers, is linked to congenital sensorineural deafness in dogs. It is estimated that about 18% of white Boxers are deaf in one or both ears, though Boxer rescue organizations see about double that number. In the past, breeders often euthanized white puppies at birth. A 1998 study of Boxers in the Netherlands showed that 17% of Boxer pups were euthanized because they were white. Previously, the American Boxer Club "unofficially recommended euthanasia for these animals." Reasons for euthanizing white pups includes the view that it is unethical to sell a dog with "faults" and the perception that white Boxers are at higher risk of ending up abandoned in rescues. Today, breeders are increasingly reluctant to euthanize healthy pups and choose to neuter and place them in pet homes instead.
Boxers were originally a docked and cropped breed, and this is still done in some countries. However, due to pressure from veterinary associations, animal rights groups, and the general public, both cropping of the ears and docking of the tail have been prohibited in many countries around the world. A line of naturally short-tailed (bobtail) Boxers was developed in the United Kingdom in anticipation of a tail docking ban there.